Shubhaarambh Lyrics - Kai Po Che
Shubhaarambh song words unfold the excitement of new beginnings. This song is from Bollywood Movie Kai Po Che (2013) sang by Shruti Pathak and Divya Kumar, Featuring Sushant Singh Rajput, Rajkummar Rao, Amit Sadh, and Amrita Puri. The lyrics of this song are penned by Swanand Kirkire and music is by Amit Trivedi.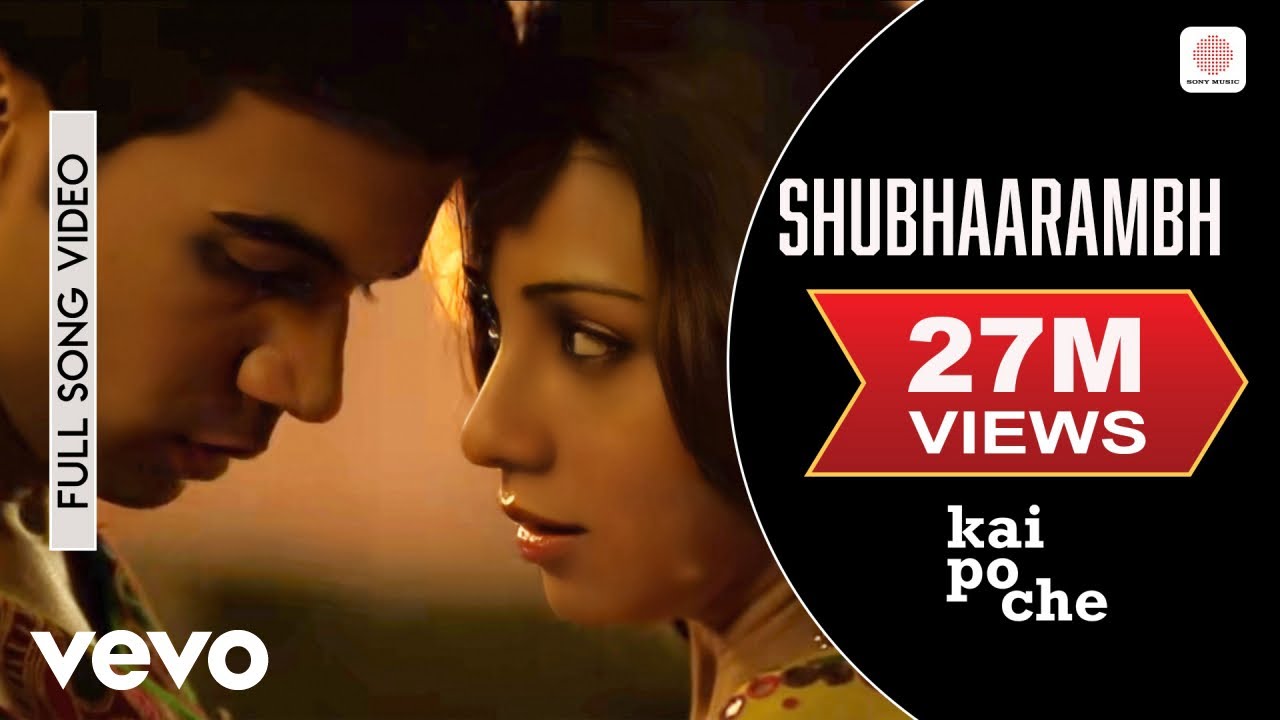 Credits:
SonyMusicIndiaVEVO
Below are the Lyrics in Hindi and English
Song Details:
Shubhaarambh means Auspicious beginning with all the happiness.
Shubhaarambh Lyrics in Hindi
रंगी पर उड आवी,
खुशियों संग लावी
हरखाये हय्यो हाय, हाय ( X 2 )

आशा नी किरनो बिखराए
उमंगें वि छलकाए
मन हल्वेथी गुनगुनाये
हाय, हाय, हाय, हाय

हे शुभारम्भ, हो शुभारम्भ
मंगल बेला आयी
सपनो की देहरी पे
दिल की बाजी रे शहनाई
शहनाई ( X 2 )

ख्वाबों के बीज़
कच्छी ज़मीन पे हमको बोना है
आशा के मोती सासों की माला
हमे पिरोना है
अपना बोझा मिल के साथी हमको ढोना है
शहनाई, शहनाई, शहनाई

रास रचीलो साज सजिलो
शुभ घडी छै आवी
आजा आजा तमतमाता
शमना ओझे लावी
ओह लावी
हो हो हो लावी

रंगी पर उड आवी,
खुशियों संग लावी
हरखाये हय्यो हाय, हाय ( X 2 )

हाँ मज़ा है ज़िंदगी
नशा है जिंदगी
धीरे धीरे चढेगी हो

दुआ दे ज़िन्दगी, बता दे ज़िन्दगी
बात आपनी बनेगी हो

ख्वाबों के बीज़
कच्छी ज़मीन पे हमको बोना है
आशा के मोती सासों की माला
हमे पिरोना है
अपना बोझा मिल के साथी हमको ढोना है
शहनाई, शहनाई, शहनाई

(अरे रंग लो म्हारा ना ... ऐ थाय थाई)

हे शुभारम्भ, हो शुभारम्भ
मंगल बेला आयी
सपनो की देहरी पे
दिल की बाजी रे शहनाई
शहनाई

रास रचीलो साज सजिलो
शुभ घडी छै आवी
आजा आजा तमतमाता
शमना ओझे लावी
ओह लावी


Written By: Swanand Kirkire
Credits: SonyMusicIndiaVEVO
Rangi par ud aavee,
Khushiyon sang laavee
Harakhaye hayyo haay, haay ( x 2 )

Aasha ni kirano bikharae
Umangen vi chhalakae
Man halvethee gunagunaaye
Haay, haay, haay, haay

He shubhaarambh, ho shubhaarambh
Mangal bela aayee
Sapano ki dehari pe
Dil ki baaji re shahanai
Shahanai ( x 2 )

Khvaabon ke beej
Kachchhi zameen pe hamako bona hai
Aasha ke moti saason ki maala
Hame pirona hai
Apana bojha mil ke saathi hamako dhona hai
Shahanai, shahanai, shahanai

Raas rachilo saaj sajilo
Shubh ghadi chhai aavee
Aaja aaja tamatamaata
Shamana ojhe laavee
Oh laavee
Ho ho ho laavee

Rangi par ud aavee,
Khushiyon sang laavee
Harakhaye hayyo haay, haay ( x 2 )

Haan maja hai zindagi
Nasha hai zindagi
Dheere dheere chadhegi ho

Dua de zindagi, bata de zindagi
Baat aapani banegi ho

Khvaabon ke beej
Kachchhi zameen pe hamako bona hai
Aasha ke moti saason ki maala
Hame pirona hai
Apana bojha mil ke saathi hamako dhona hai
Shahanai, shahanai, shahanai

(are rang lo mhara na ... Ai thaay thaee)

He shubhaarambh, ho shubhaarambh
Mangal bela aayee
Sapano ki dehari pe
Dil ki baaji re shahanai
Shahanai

Raas rachilo saaj sajilo
Shubh ghadi chhai aavee
Aaja aaja tamatamaata
Shamana ojhe laavee
Oh laavee


Tags:
shubharambh song lyrics meaning, shubharambh dance song, he subharam ho subharam video song,
kai po che songs
, shubharambh meaning, shubh ghadi che aavi song