Qaafirana Lyrics from the movie Kedarnath sang by Arijit Singh, Nikhita Gandhi, lyrics written by Amitabh Bhattacharya, Music composed by Amit Trivedi. Starring Sushant Singh Rajput, Sara Ali Khan, Nitish Bharadwaj, Alka Amin, Sonali Sachdev, Pooja Gor, Nishant Dahiya.
Arijit Singh Songs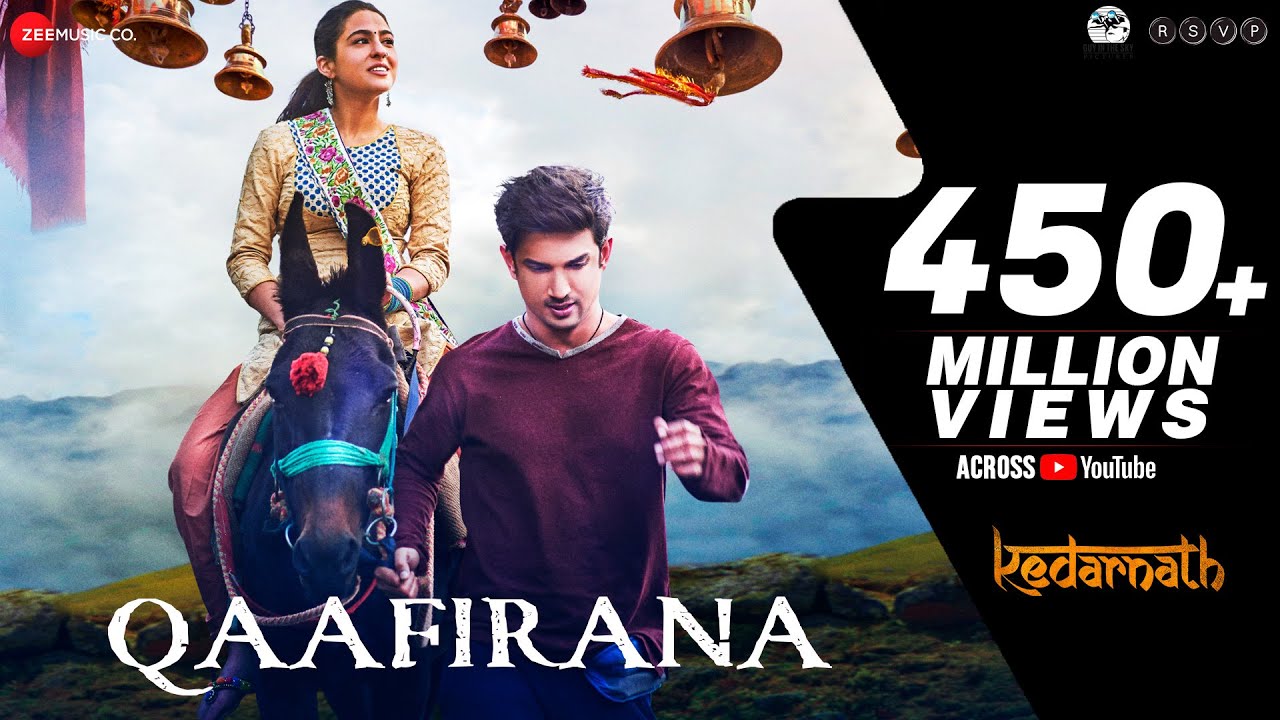 Song Credits -
Song
: Qaafirana
Singer
: Arijit Singh, Nikhita Gandhi
Song Lyrics
: Amitabh Bhattacharya
Music/Composer
: Amit Trivedi
Music Label
: Zee Music Company
Movie
: Kedarnath
Release Year
: 2018
Qaafirana Lyrics
Play "Qaafirana"
On Jio Saavn
इन वादियों में टकरा चुके है
हमसे मुसाफिर यूँ तो कई
दिल न लगाया हमने किसी से
किस्से सुने है यूँ तो कई
ऐसे तुम मिले हो, ऐसे तुम मिले हो
जैसे मिल रही हो इत्र से हवा
काफिराना सा है इश्क़ है या क्या है

ऐसे तुम मिले हो, ऐसे तुम मिले हो
जैसे मिल रही हो इत्र से हवा
काफिराना सा है इश्क़ है या क्या है

खामोशियों में बोली तुम्हारी कुछ इस तरह गूँजती है
सिग्नेचर लिरिक्स डॉट कॉम
कानो से मेरे होते हुए वो दिल का पता ढूँढ़ती है

वेस्वादियों में वेस्वादियों में
जैसे मिल रहा हो कोई जायका

काफिराना सा है इश्क़ है या क्या है

ऐसे तुम मिले हो, ऐसे तुम मिले हो
जैसे मिल रही हो इत्र से हवा
काफिराना सा है इश्क़ है या क्या है

ला ला ला ला..आहा हा आहा..

गोदी में पहाड़ियों की उजली दोपहरी गुजारना
हाय हाय तेरे साथ मे अच्छा लगे

शर्मिली अँखियों से तेरा मेरी नज़रे उतारना
हाय हाय हर बात पे अच्छा लगे

ढलती हुई शाम ने बताया है
कि दूर मंज़िल पे रात है

मुझको तसल्ली है ये
कि होने तलक रात हम दोनों साथ हैं

संग चल रहे है, संग चल रहे है
धूप के किनारे छाँव के तरह

काफिराना सा है इश्क़ है या क्या है

हम्म..ऐसे तुम मिले हो, ऐसे तुम मिले हो
जैसे मिल रही हो इत्र से हवा

काफिराना सा है इश्क़ है या क्या है

Qaafirana is Urdu Word means in something that a person who doesn't believe in God and hence does not fear God.



Video of Qaafirana Lyrics - Kedarnath
Play "Qaafirana"
On Jio Saavn
Hope you have got Qaafirana track lyrics. This song is sung by Arijit Singh and Nikhita Gandhi.