Humdard Lyrics - Ek Villain (2014)
Humdard is a Melodious Track by Musical Hit Pair of Arijit Singh & Mithoon in Bollywood. This song is from Bollywood Movie Ek Villain (2014) featuring Sidharth Malhotra and Shraddha Kapoor. The lyrics and music of this song are by Mithoon.

Ek Villain Movie is an action-thriller film directed by Mohit Suri starring Sidharth Malhotra, Shraddha Kapoor, Riteish Deshmukh.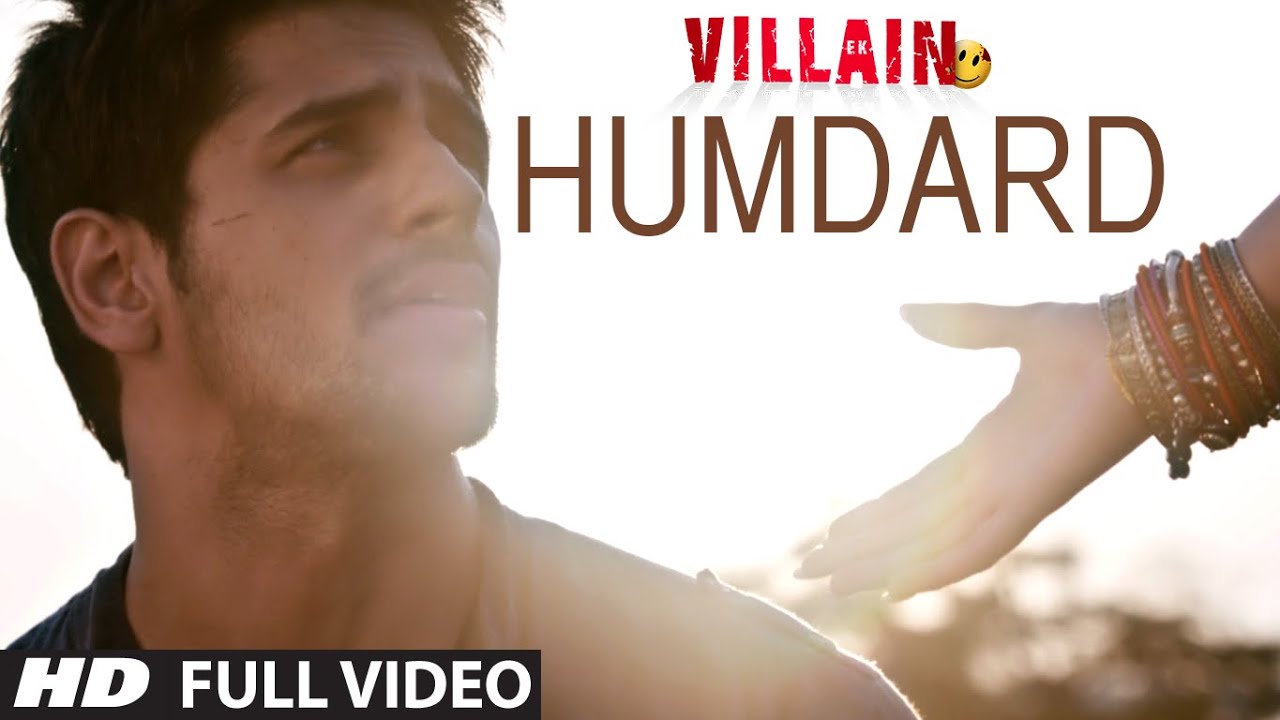 Credits: T-Series
Below are the Lyrics in Hindi and English
Song Details:
Humdard Meaning:
It's an Urdu word which means a companion/life partner who shares sorrows, दुःख में साथ देनेवाला.
Song Lyrics
पल, दो पल, की क्यूं है जिंदगी
इस, प्यार, को है, सदियां काफ़ी नहीं

तो खुदा से मांग लूँ
मोहलत मैं इक नई
रेहना है बस यहां
अब दूर तुझसे जाना नहीं

जो तू मेरा हमदर्द है
जो तू मेरा हमदर्द है

सुहाना हर दर्द है
जो तू मेरा हमदर्द है

तेरी मुस्कुराहटें हैं ताक़त मेरी
मुझको इन्ही से उम्मीद मिली

चाहे करे कोई सितम ये जहां
इनमे ही है सदा हिफाज़त मेरी

ज़िन्दगानी बड़ी ख़ूबसूरत हुई
जन्नत अब और क्या होगी कहीं

जो तू मेरा हमदर्द है
जो तू मेरा हमदर्द है
सुहाना हर दर्द है
जो तू मेरा हमदर्द है

वू....वू....

तेरी धड़कनो से है जिंदगी मेरी
ख्वाहिशें तेरी अब दुआएं मेरी

कीतना अनोखा बंधन है ये
तेरी मेरी जान जो एक हुई

लौटूंगा यहां तेरे पासमैं हाँ
वादा है मेरा मर भी जाऊं कहीं

जो तू मेरा हमदर्द है
ओ तू मेरा हमदर्द है
सुहाना हर दर्द है
जो तू मेरा हमदर्द है

हम्मम..हमदर्द है.... [X 4]

Written By: Mithoon
Credits: T-Series
Lyrics in English
Pal, do pal, ki kyon hai zindagi
Iss, pyaar, ko hai, sadiyaan kaafee nahin

To khuda se maang loon
Mohalat main ik nai
Rehana hai bas yahaan
Ab dur tujhase jaana nahin

Jo tu mera humdard hai
Jo tu mera humdard hai

Suhaana har dard hai
Jo tu mera humdard hai

Teri muskurahatein hain taaqat meri
Mujhako inhi se ummeed mili

Chaahe kare koi sitam ye jahaan
Iname hi hai sada hifaazat meri

Zindagaani badi khoobasurat hui
Jannat ab aur kya hogi kahin

Jo tu mera humdard hai
Jo tu mera humdard hai
Suhaana har dard hai
Jo tu mera humdard hai

Voo....voo....

Teri dhadakano se hai zindagi meri
Khwaahishein teri ab duaein meri

Kitana anokha bandhan hai ye
Teri meri jaan jo ek hui

Lautunga yahaan tere paas main haan
Vaada hai mera mar bhi jaoon kahin

Jo tu mera humdard hai
O tu mera humdard hai
Suhaana har dard hai
Jo tu mera humdard hai

Hammam..humdard hai....[ X 4 ]



Tags: humdard lyrics in hindi, humdard song, jo tu mera humdard hai lyrics, humdard meaning, jo tu mera humdard hai song, hamdard full song