Janam Janam Lyrics - Dilwale (2015)
Janam Janam is a Romantic chartbuster from Bollywood Movie Dilwale (2015) featuring Shah Rukh Khan and Kajol. This song is sung by Arijit Singh & Antara Mitra. The lyrics of this song are penned by Amitabh Bhattacharya and music is composed by Pritam.

Dilwale Movie is a Romantic comedy action film directed by Rohit Shetty starring Shah Rukh Khan, Kajol, Varun Dhawan, Kriti Sanon.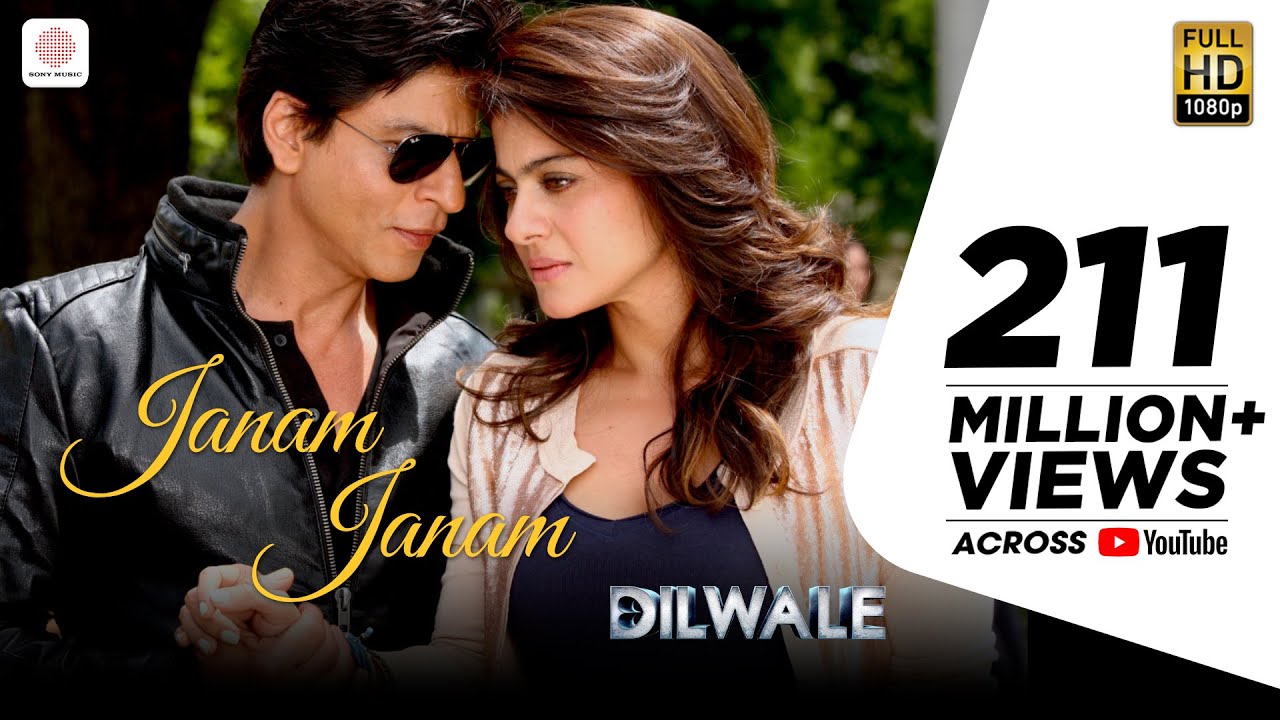 Credits: Sony Music India
Below are the Lyrics in Hindi and English
Song Details:
Song Lyrics
जनम जनम जनम साथ चलना युहीं
कसम तुम्हे कसम आके मिलना युहीं
इक जान है भले दो बदन हो जुदा
मेरी होके हमेशा ही रेहना
कभी ना केहना अलविदा

मेरी सुबह हो तुम्ही और तुम्ही शाम हो
तुम दर्द हो तुम ही आराम हो
मेरी दुआओं से आती है बस ये सदा
मेरी होके हमेशा ही रेहना
कभी ना केहना अलविदा

अहा हा आ....ओ ओ
मेरी होके हमेशा ही रेहना
कभी ना केहना अलविदा

तेरी बाहों में है मेरे दोनो जहान
तू रहे जिधर मेरी जन्नत वहीं
जल रही अगन है जो ये दो तरफा
ना बुझे कभी मेरी मन्नत यही
तू मेरी आरज़ू, मैं तेरी आशिकी
तू मेरी शायरी, मैं तेरी मौसिकी

तलब तलब तलब बस तेरी है मुझे
नसों में तू नशा बनके घुलना युहीं
मेरी मोहब्बत का कर ना तू हक़ ये अदा
मेरी होके हमेशा ही रेहना
कभी ना केहना अलविदा

मेरी सुबह हो तुम्ही और तुम्ही शाम हो
तुम दर्द हो तुम ही आराम हो
मेरी दुआओं से आती है बस ये सदा
मेरी होके हमेशा ही रेहना
कभी ना केहना अलविदा

आ....अलविदा
आ....ओ.... ना ना हे....

Written By: Amitabh Bhattacharya
Credits: Sony Music India
Lyrics in English
Janam janam janam saath chalana yuhin
Kasam tumhe kasam aake milana yuhin
Ik jaan hai bhale do badan ho juda
Meri hoke hamesha hi rehana
Kabhi na kehana alavida

Meri subah ho tumhi aur tumhi shaam ho
Tum dard ho tum hi aaraam ho
Meri duaon se aati hai bas ye sada
Meri hoke hamesha hi rehana
Kabhi na kehana alavida

Aha ha aa....o o
Meri hoke hamesha hi rehana
Kabhi na kehana alavida

Teri baahon mein hai mere dono jahaan
Tu rahe jidhar meri jannat vahin
Jal rahi agan hai jo ye do tarapha
Na bujhe kabhi meri mannat yahi
Tu meri aarazoo, main teri aashiqui
Tu meri shaayari, main teri mausikee

Talab talab talab bas teri hai mujhe
Nason mein tu nasha banake ghulana yuhin
Meri mohabbat ka kar na tu haq ye ada
Meri hoke hamesha hi rehana
Kabhi na kehana alavida

Meri subah ho tumhi aur tumhi shaam ho
Tum dard ho tum hi aaraam ho
Meri duaon se aati hai bas ye sada
Meri hoke hamesha hi rehana
Kabhi na kehana alavida

Aa....alavida
Aa....o.... Na na he....



Tags: janam janam lyrics in hindi, janam janam lyrics in english, janam janam song, janam janam janam sath chalna yuhi full song