Koi Roko Na Deewane Ko Lyrics | Kishore Kumar
Koi Roko Na Deewane Ko is a Wonderful Romantic Song from Bollywood Blockbuster Movie Priyatama (1977). This song is sung by Kishore Kumar. The lyrics of this song are penned by Anjaan and music is composed by Rajesh Roshan.
Priyatama Movie is a Light Musical-film directed by Basu Chatterjee starring Jeetendra, Neetu Singh, Rakesh Roshan, Asha Sachdev.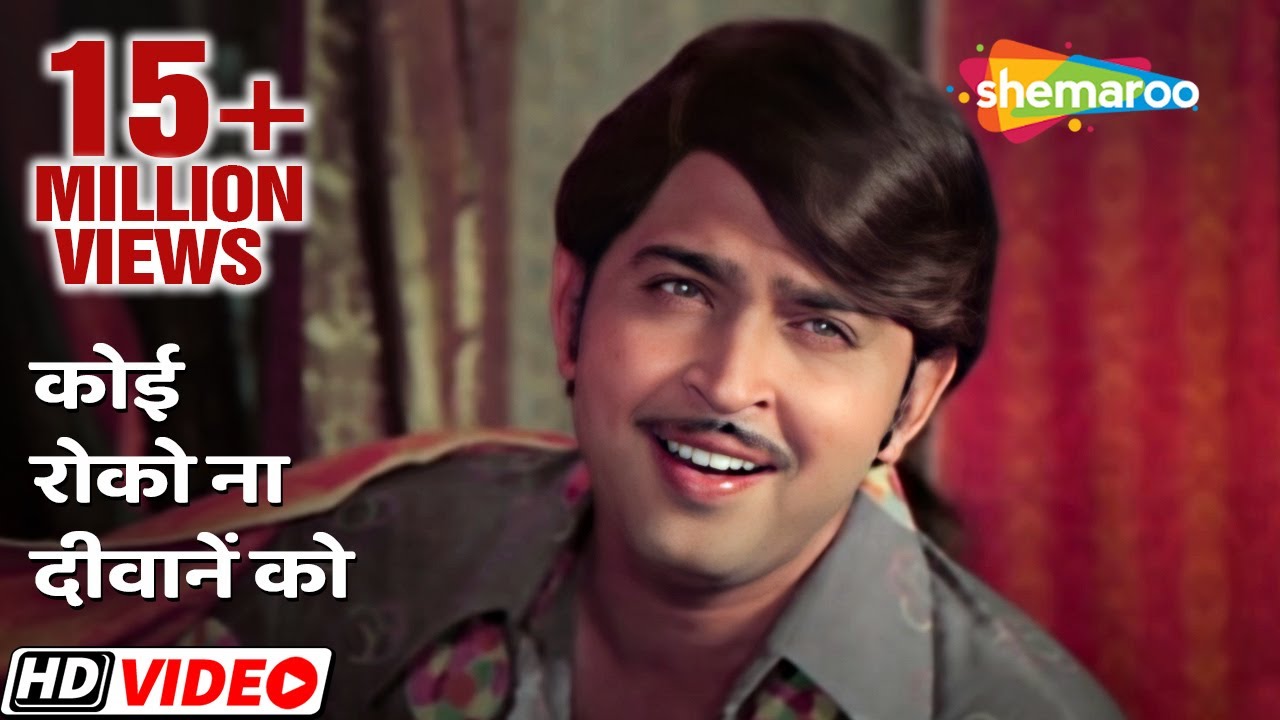 Credits: 
Shemaroo Filmi Gaane
Below are the Lyrics in Hindi and English
Song Details:
♫ Song
: Koi Roko Na कोई रोको ना
Singer
:

Kishore Kumar

Music
: 

Rajesh Roshan

Lyrics By
:

Anjaan

Music Label
: Shemaroo Filmi Gaane
Movie
:

Priyatama-1977
Koi Roko Na Lyrics in Hindi
कोइ रोको ना, दीवाने को
मन मचल रहां, कुछ गाने को
कोइ रोको ना, दीवाने को
मन मचल रहां, कुछ गाने को
कोइ रोको ना
ये भीगा भीगा मौसम
ये भीगी भीगी राहें
चले दो हमराही
बाहो मैं डाले बाहे
तो फूलो ने खीलके कहां ये दिल से
है दिन सुहाना मौसम सलोना
दामन से बाँध लो प्यारा समां
कोइ रोको ना, दीवाने को
मन मचल रहां, कुछ गाने को
कोइ रोको ना
उमर के सफर में
जिसे जो यहां भाये
उसीके सपनो मैं ये मन रंग जाए
तो रंगो मैं भीग के रंगे रंगीला
गाले तराना जो ये रसिला
अलबेला गीत वो भूले कहां
कोइ रोको ना, दीवाने को
मन मचल रहां, कुछ गाने को
कोइ रोको ना, दीवाने को
मन मचल रहां, कुछ गाने को
कोइ रोको ना
Credits: Shemaroo Filmi Gaane
Koi Roko Na Lyrics in English
Koi Roko Na, Deewane Ko
Man Machal Rahan, Kuch Gaane Ko
Koi Roko Na, Deewane Ko
Man Machal Rahan, Kuch Gaane Ko
Koi Roko Na
Ye Bheega Bheega Mausam
Ye Bheegi Bheegi Rahein
Chale Do Hamrahi
Baaho Main Dale Bahe
To Phulon Ne Khilake Kahan Ye Dil Se
Hai Din Suhaaa Mausam Salona
Daaman Se Bandh Lo Pyara Samaa
Koi Roko Na, Deewane Ko
Man Machal Rahan, Kuch Gaane Ko
Koi Roko Na
Umar Ke Safar Mein
Jise Jo Yahan Bhaye
Usike Sapano Main Ye Man Rang Jae
To Rango Main Bheeg Ke Range Rangeela
Gaale Tarana Jo Ye Rasila
Alabela Geet Vo Bhoole Kahan
Koi Roko Na, Deewane Ko
Man Machal Rahan, Kuch Gaane Ko
Koi Roko Na, Deewane Ko
Man Machal Rahan, Kuch Gaane Ko
Koi Roko Na
Tags: bollywood lyrics, hindi songs lyrics in english, bollywood song lyrics, hindi song lyrics, old hindi song lyrics, old bollywood songs lyrics, old hindi song lyrics in hindi, popular old hindi songs, old hindi movie songs, old hindi film songs