Mauli Mauli Lyrics (Vitthal Vitthal) - Lai Bhaari (2014)
Mauli Mauli is a song of praise to Lord Vitthal from Superhit Marathi Movie Lai Bhaari (2014) featuring Riteish Deshmukh. This song is sung by Ajay Gogavale & Chorus. The lyrics of this song are penned by Guru Thakur and music is composed by Ajay Atul.
Lai Bhaari Superhit Marathi Movie is a action-drama film directed by Nishikant Kamat starring Riteish Deshmukh, Radhika Apte, Sharad Kelkar, Tanvi Azmi & Salman Khan.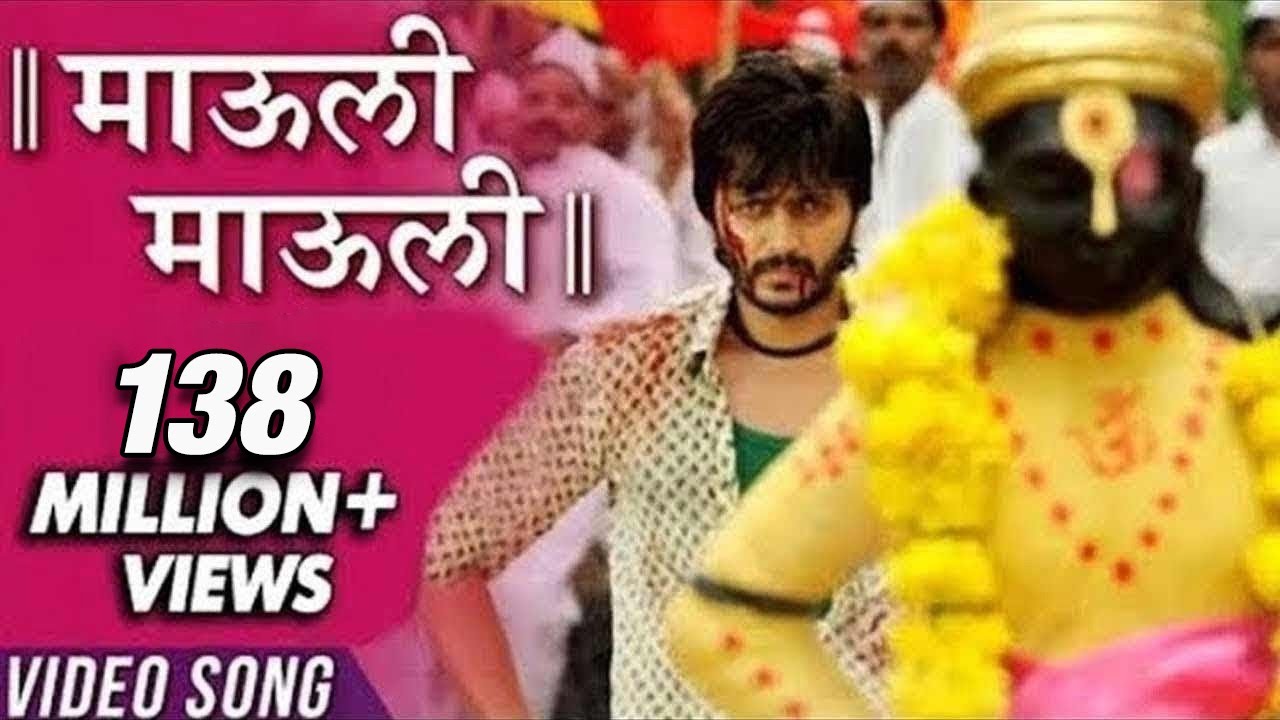 Credits:
Rajshri Marathi
Below are the Lyrics in Marathi and English
Song Details:
|| आपणा सर्वांना आषाढ़ी एकादशीच्या हार्दिक शुभेच्छा ||
Song Lyrics
विठ्ठल विठ्ठल, विठ्ठल विठ्ठल
विठ्ठल विठ्ठल, विठ्ठल विठ्ठल

तुला साद आली तुझ्या लेकरांची
अलंकापुरी आज भारावली

वसा वारीचा घेतला पावलांनी
आम्हा वाळवंटी तुझी सावली

गळाभेट घेण्या भिमेची निघाली
तुझ्या नामघोषात इंद्रायणी

विठ्ठल विठ्ठल, विठ्ठल विठ्ठल
विठ्ठल विठ्ठल, विठ्ठल विठ्ठल

हो..भिडे आसमंती ध्वजा वैष्णवांची
उभी पंढरी आज नादावली

तुझे नाव ओठी, तुझे रूप ध्यानी
जिवाला तुझी आस गा लागली

जरी बाप साऱ्या जगाचा परि तू
आम्हा लेकरांची विठू माऊली

माऊली माऊली, माऊली माऊली
माऊली माऊली, रूप तुझे
माऊली माऊली, माऊली माऊली
माऊली माऊली, रूप तुझे

विठ्ठल विठ्ठल, विठ्ठल विठ्ठल
विठ्ठल विठ्ठल, विठ्ठल विठ्ठल

चालतो रे तुझी वाट रात्रंदिनी
घेतला पावलांनी वसा

टाळ घोषातुनी साद येते तुझी
दावते वैष्णवांना दिशा

दाटला मेघ तू सावळा,
मस्तकी चंदनाचा टिळा
लेऊनि तुळशी माळा गळा ह्या,
पाहसी वाट त्या राऊळा

हो..आज हारपलं देहभान,
जीव झाला खुळा बावळा

पाहण्या गा तुझ्या लोचनांत
भाबड्या लेकरांचा लळा

हो..भिडे आसमंती ध्वजा वैष्णवांची
उभी पंढरी आज नादावली

तुझे नाव ओठी, तुझे रूप ध्यानी
जिवाला तुझी आस गा लागली

जरी बाप साऱ्या जगाचा परि तू
आम्हा लेकरांची विठू माऊली

माऊली माऊली, माऊली माऊली
माऊली माऊली, रूप तुझे
माऊली माऊली, माऊली माऊली
माऊली माऊली, रूप तुझे

विठ्ठल विठ्ठल, विठ्ठल विठ्ठल
विठ्ठल विठ्ठल, विठ्ठल विठ्ठल

चालला गजर, जाहलो अधिर
लागली नजर कळसाला
पंचप्राण हे तल्लीन
आता पाहीन पांडुरंगाला

देखिला कळस डोईला तुळस
धावितो चंद्रभागेसी
समिप ही दिसे पंढरी
याच मंदिरी माऊली माझी

मुख दर्शन व्हावे आता
तू सकल जगाचा त्राता
घे कुशीत गा माऊली तुझ्या
पायरी ठेवतो माथा

माऊली माऊली, माऊली माऊली
माऊली माऊली, माऊली माऊली

पुंडलिक वरदे हारि विठ्ठल
श्री ज्ञानदेव तुकाराम
पंढरीनाथ महाराज की जय

Written By: Guru Thakur
Credits: Rajshri Marathi
Lyrics in English
Vitthal Vitthal, Vitthal Vitthal
Vitthal Vitthal, Vitthal Vitthal

Ho..Tula Saad Aali Tujhya Lekaraanchi
Alankapuri Aaj Bharavali

Vasa Varicha Ghetala Pavalanni
Amha Valavanti Tujhi Savali

Galabhet Ghenya Bhimechi Nighali
Tujhya Naam Ghoshat Indrayani

Vitthal Vitthal, Vitthal Vitthal
Vitthal Vitthal, Vitthal Vitthal

Ho..Bhide Asamanti Dhvaja Vaishnavanchi
Ubhi Pandhari Aaj Naadavali

Tujhe Naav Othi, Tujhe Roop Dhyani
Jivala Tujhi Aas Ga Lagali

Jari Baap Sarya Jagacha Pari Tu
Amha Lekaraanchi Vithu Mauli

Mauli Mauli, Mauli Mauli
Mauli Mauli, Roop Tujhe
Mauli Mauli, Mauli Mauli
Mauli Mauli, Roop Tujhe

Vitthal Vitthal, Vitthal Vitthal
Vitthal Vitthal, Vitthal Vitthal

Chalato Re Tujhi Vaat Ratrandini
Ghetala Pavalanni Vasa

Taal Ghoshatuni Saad Yete Tujhi
Daavte Vaishnavanna Disha

Datala Megh Tu Savala,
Mastaki Chandanacha Tila
Leuni Tulashi Mala Gala Hya,
Pahasi Vaat Tya Raula

Ho..Aaj Harpal Dehbhaan,
Jeev Jhala Khula Bavala

Pahanya Ga Tujhya Lochanaat
Bhabadya Lekarancha Lala

Ho..Bhide Asamanti Dhvaja Vaishnavanchi
Ubhi Pandhari Aaj Naadavali

Tujhe Naav Othi, Tujhe Roop Dhyani
Jivala Tujhi Aas Ga Lagali

Jari Baap Sarya Jagacha Pari Tu
Amha Lekaraanchi Vithu Mauli

Mauli Mauli, Mauli Mauli
Mauli Mauli, Roop Tujhe
Mauli Mauli, Mauli Mauli
Mauli Mauli, Roop Tujhe

Vitthal Vitthal, Vitthal Vitthal
Vitthal Vitthal, Vitthal Vitthal

Chalala Gajar, Jahalo Adhir
Lagali Najar Kalasala
Panchpraan He Tallin
Aata Pahin Pandurangala

Dekhila Kalas Doeila Tulas
Dhavito Chandrabhageshi
Samipahi Dise Pandhari
Yach Mandiri Mauli Majhi

Mukh Darshan Vhave Aata
Tu Sakal Jagacha Trata
Ghe Kushit Ga Mauli Tujhya
Payari Thevato Matha

Mauli Mauli, Mauli Mauli
Mauli Mauli, Mauli Mauli

Pundalik Varade Haari Vitthal
Shri Jnanadev Tukaram
Pandharinath Maharaj Ki Jay



Tags: mauli mauli lyrics english, mauli movie song lyrics in marathi, mauli mauli video song, mai mauli mauli