Hawa Banke Lyrics – Darshan Raval
Hawa Banke is a Romantic song sang by Darshan Raval. The lyrics of this song are penned by Nirmaan and music is also given by Nirmaan, Presented by Indie music, Featuring Darshan Raval, Aditi B.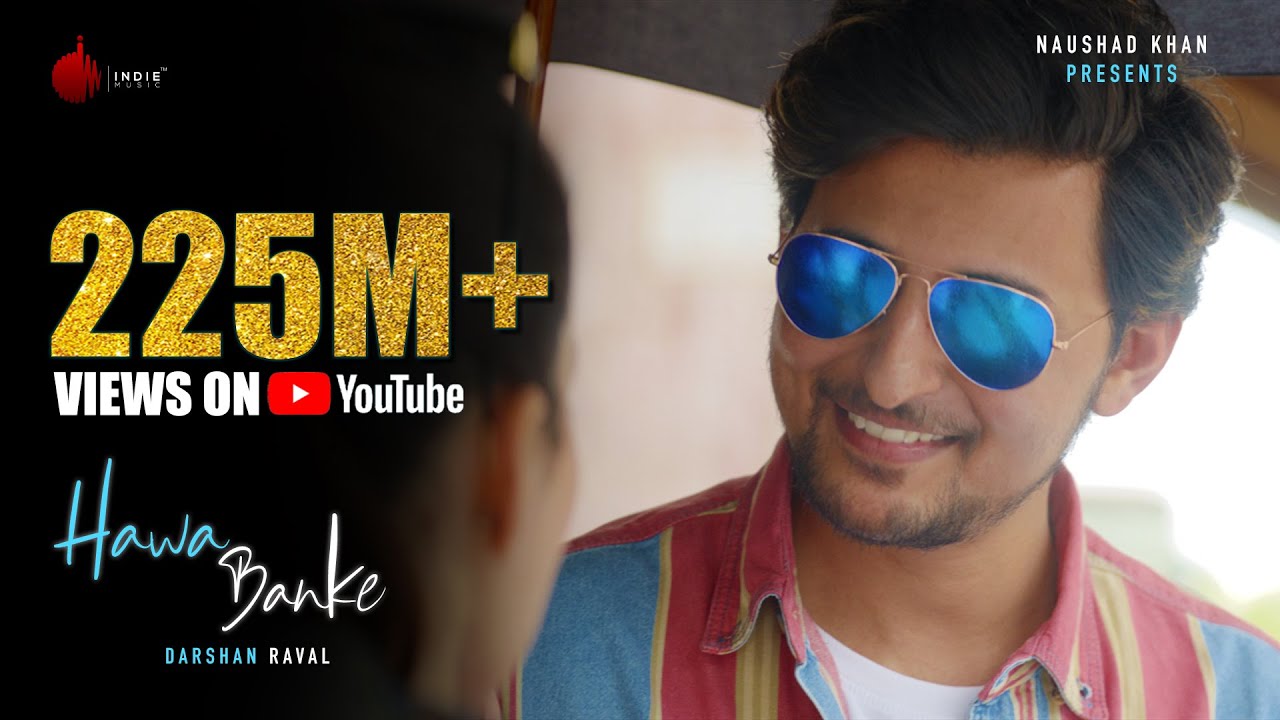 Credits: Indie Music
Below are the Lyrics in Hindi and English
Song Details:
♫ Song
: Hawa Banke
Singer
: 

Darshan Raval

Female Vocals
: Simran
Music
: Nirmaan
Lyrics By
: 

Nirmaan

(Original Lyrics inspired by Hadiqa Kiani song Boohey Bariyan)
Music Label
: 

Indie Music

Video Director
: Abhishek Sinha
Cast
: Darshan Raval, Aditi B
Special Thanks: Shri Akhilesh Singh, Shri Suresh Kumar Singh, Shri Sanjay Shrivastav, Gaurav Chawla, Riz Mansuri, Rohit Raj (Boost U), Ashutosh Kumar Singh.
Hawa Banke Lyrics in Hindi
Dialouges: 
आती हो तो बारिश लेके आना
जी भर के रोने का दिल करे, अबे
WELCOME TO INDIA
मैं ज़मीं, तू आसमाँ
मैं दाग हूँ, तू चाँद सा
तू बारिश है, मैं रेत हूँ
मैं धुन कोई, तू राग सा
मैं ज़मीं, तू आसमाँ
मैं दाग हूँ, तू चाँद सा
तू बारिश है, मैं रेत हूँ
मैं धुन कोई, तू राग सा
मेन्नु अपना बनाले मेरी हीरिये
मेन्नु अपना बनाले मेरी हीरिये
मैं रहना है तेरा बनके,
बूहे बारियाँ, हाय, बूहे बारियाँ
बूहे बारियाँ
ते नाले कंदा टप्प के
तू आजा वीं हवा बन के
बूहे बारियाँ, हाय, बूहे बारियाँ
बूहे बारियाँ, हाय, बूहे बारियाँ
छू लूँ तुझे जैसे कोई चाँद को छूना चाहे
चाहूँ तुझे जैसे कोई बच्चा खिलौना चाहे
छू लूँ तुझे जैसे कोई चाँद को छूना चाहे
चाहूँ तुझे जैसे कोई बच्चा खिलौना चाहे
फ़िक्र की रात में तू सुकून की नींद है
पतझड़ के मौसम में तू बारिश की पहली बूँद है
निर्माण अज्ज ईद तेरे वासते
निर्माण अज्ज ईद तेरे वासते
आया ऐ अदा करके
बूहे बारियाँ, हाय, बूहे बारियाँ
बूहे बारियाँ
ते नाले कंदा टप्प के
आवां गी हवा बन के
बूहे बारियाँ, हाय, बूहे बारियाँ
बूहे बारियाँ, हाय, बूहे बारियाँ
Written By: Nirmaan
Credits: Indie Music
Dialogues:
Aati ho to baarish leke aana
Jee bhar ke rone ka dil kare, abe
WELCOME TO INDIA
Main zameen, tu aasamaan
Main daag hoon, tu chaand sa
Tu baarish hai, main ret hoon
Main dhun koi, tu raag sa
Main zameen, tu aasamaan
Main daag hoon, tu chaand sa
Tu baarish hai, main ret hoon
Main dhun koi, tu raag sa
Mennu apana banaale meri heeriye
Mennu apana banaale meri heeriye
Main rehana hai tera banake,
Boohe baariyaan, haay, boohe baariyaan
Boohe baariyaan
Te naale kanda tapp ke
Tu aaja veen hawa ban ke
Boohe baariyaan, haay, boohe baariyaan
Boohe baariyaan, haay, boohe baariyaan
Chhoo loon tujhe jaise koi chaand ko chhoona chaahe
Chaahoon tujhe jaise koi bachcha khilauna chaahe
Chhoo loon tujhe jaise koi chaand ko chhoona chaahe
Chaahoon tujhe jaise koi bachcha khilauna chaahe
Fikr ki raat mein tu sukoon ki neend hai
Patajhad ke mausam mein tu baarish ki pehali boond hai
Nirmaan ajj eid tere vaaste
Nirmaan ajj eid tere vaaste
Aaya ai ada karake
Boohe baariyaan, haay, boohe baariyaan
Boohe baariyaan
Te naale kanda tapp ke
Aavaan gi hawa ban ke
Boohe baariyaan, haay, boohe baariyaan
Boohe baariyaan, haay, boohe baariyaan
Also, See other Best songs by 

Darshan Raval