Love & Friendship Song
Dil Bechara

Title Track

Lyrics is from Latest Bollywood Movie Dil Bechara (2020). This song is sung by A R Rahman. The lyrics of this song are penned by Amitabh Bhattacharya and music is composed by A R Rahman.
Dil Bechara Movie is a 2020's Bollywood film directed by Mukesh Chhabra starring Sushant Singh Rajput, Sanjana Sanghi.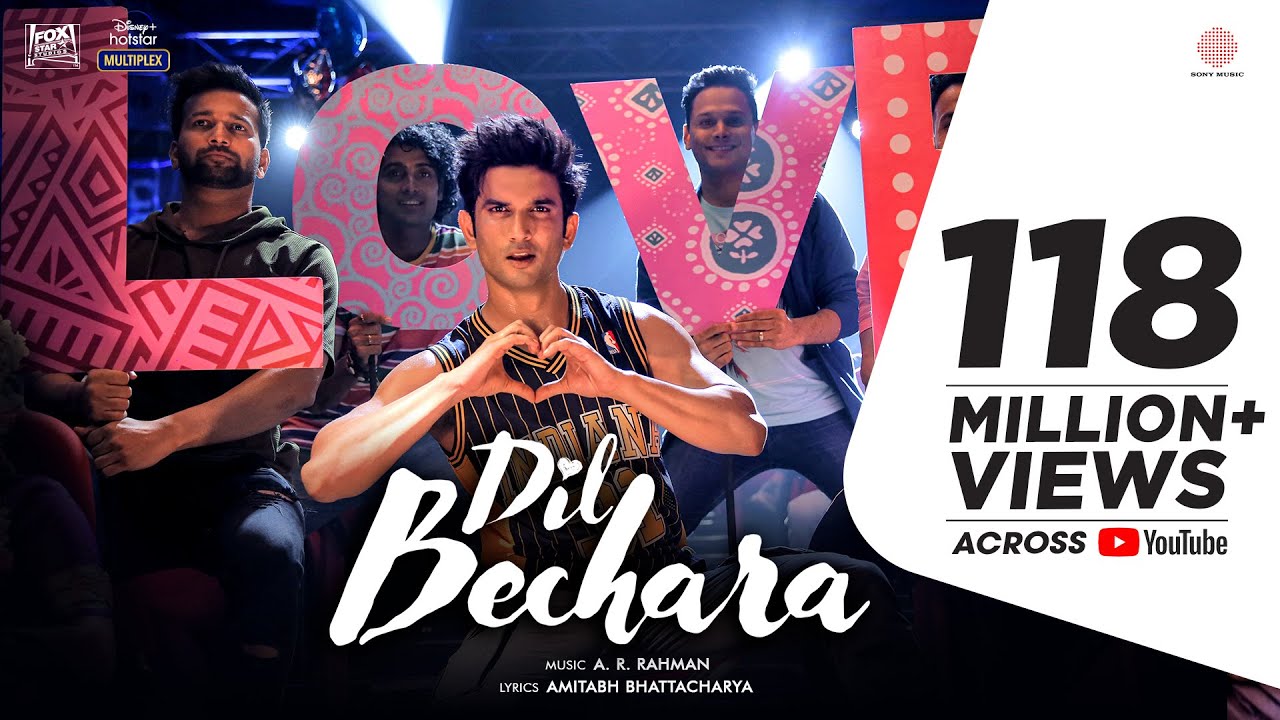 Credits: Sony Music India
Below are the Lyrics in Hindi and English
Song Details:
♫ Song
: Dil Bechara दिल बेचारा
Singer
:

A R Rahman

Music
: A R Rahman
Lyrics By
:

Amitabh Bhattacharya

Movie
: Dil Bechara-2020
दिल बेचारा लिरिक्स इन हिंदी
दिल बेचारा, 
फ्रेंड झोन का मारा
दिल बेचारा
फ्रेंड झोन का मारा
फ्रेंड झोन का मारा
कोई तो बतां दे क्या करुँ
कोई बतां दे क्या करुँ
दिल बेचारा
फ्रेंड झोन का मारा
L में जोडा O-V-E
मैंने तो लव लव लव ही किया
उस में जोडा I-K-E
मेरे को लाईक लाईक लाईक ही किया
दिल बेचारा
फ्रेंड झोन का मारा
Oh बेबी याद है मुझे
तेरा Birthday Day Day
तेरा Birthday Day Day Day
तू हर साल मेरा Birthday
भूल भूल भूल जाय रोज
तेरे कॉल की मैं राह देखूं तू
SMS भी ना करे
तू मुझे मिस भी ना करे
क्यूं मुझे मिस भी ना करे
क्यूं …
दिल बेचारा
फ्रेंड झोन का मारा
दिल बेचारा
फ्रेंड झोन का मारा
फ्रेंड झोन का मारा
Written By: 
Amitabh Bhattacharya
Credits: Sony Music India
Dil Bechara Lyrics in English
Dil Bechara, Friend Zone Ka Mara
Dil Bechara
Friend Zone Ka Mara
Friend Zone Ka Mara
Koi To Bata De Kya Karun
Koi Bata De Kya Karun
Dil Bechara
Friend Zone Ka Mara
L Mein Joda O-V-E
Maine To Love Love Love Hi Kiya
Us Mein Joda I-K-E
Mere Ko Like Like Like Hi Kiya
Dil Bechara
Friend Zone Ka Mara
Oh Baby Yaad Hai Mujhe
Tera Birthday Day Day
Tera Birthday Day Day Day
Tu Har Saal Mera Birthday
Bhool Bhool Bhool Jaay Roj
Tere Call Ki Main Raah Dekhoon Tu
Sms Bhi Na Kare
Tu Mujhe Mis Bhi Na Kare
Kyon Mujhe Mis Bhi Na Kare
Kyon …
Dil Bechara
Friend Zone Ka Mara
Dil Bechara
Friend Zone Ka Mara
Friend Zone Ka Mara
More Songs From Dil Bechara
Dil Bechara
Khulke Jeene Ka
Main Tumhara
Taare Ginn
Maskhari
Tags: Bollywood lyrics, latest Bollywood songs, Hindi songs, Hindi Bollywood songs, new Hindi songs