Fun With Maths/Remembering School Days
Pass Nahi Toh Fail Nahi Lyrics is from Latest Bollywood Movie Shakuntala Devi (2020). This song is sung by Sunidhi Chauhan. The lyrics of this song are penned by Vayu and music is composed by Sachin – Jigar.
Shakuntala Devi is a
2020's Bollywood Biographical-film
directed by
Anu Menon
 starring
Vidya Balan,
Sanya Malhotra, Jisshu Sengupta.

This movie
 is set to release on 31st July 2020 on Amazon Prime.
Hello, Friends, you all must be curious to know who is
Shakuntala Devi
, She was a Famous '
Indian Writer
' and also well known as '
Human Computer
'. She was born on 4th Nov 1929 in Banglore and Died on 21 April 2013.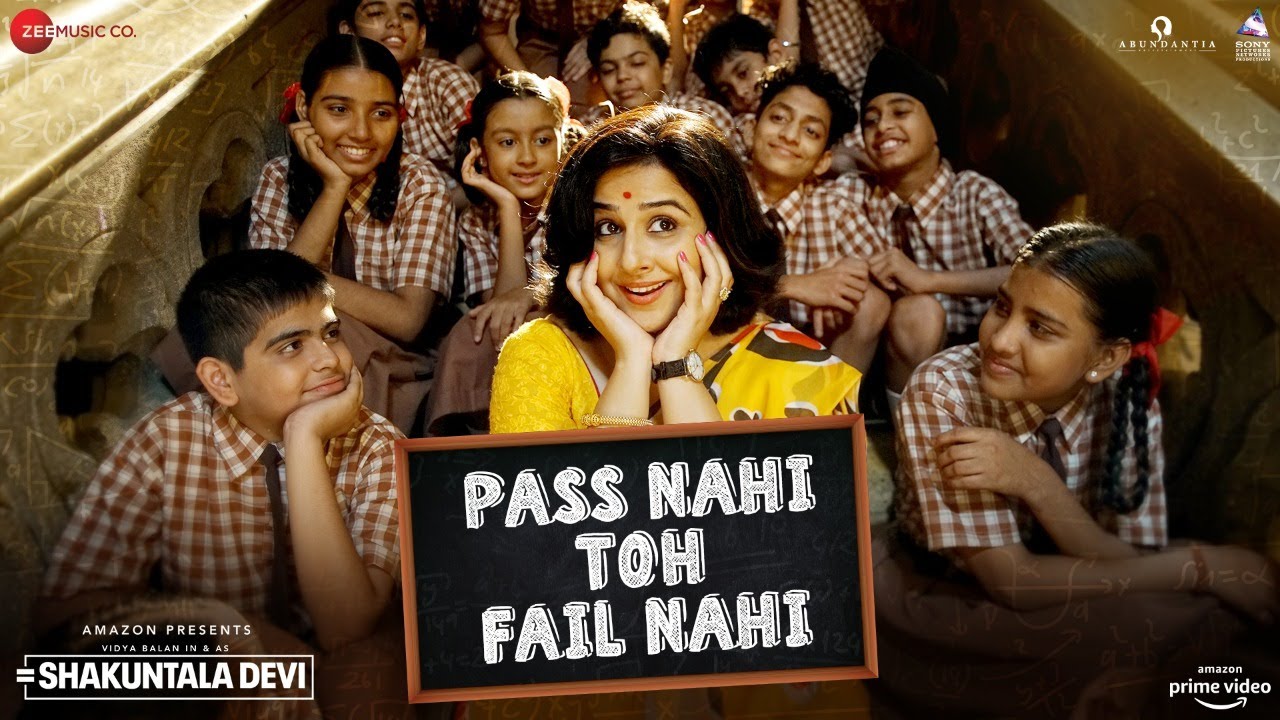 Credits: Zee Music Company
Below are the Lyrics in Hindi and English
Song Details:
| | |
| --- | --- |
| ♫ Song | : Pass Nahi Toh Fail Nahi |
| Singer | : Sunidhi Chauhan |
| Music | : Sachin – Jigar |
| Lyrics By | : Vayu |
| Movie | : Shakuntala Devi-2020 |
Pass नहीं तो Fail नही लिरिक्स इन हिंदी
यहाँ maths किस किस का favorite subject है
maths में rules नहीं है सिर्फ जादू है
so तैयार हो मेरे best  friends maths से दोस्ती करने के लिए
yes
दो मुर्गी तेरी
दो मुर्गी मेरी
चार तेरे मामे की
सात सुरों में जो
तीन ताल मिले
धुन बने गाने की
दुनिया हे सारी
नम्बरों से भरी
बक्से से बाहर निहार
हम ना जरा भी
कीड़े किताबी
tension मत ले यार
बोलो बेटा एक दोन तीन चार
pass नहीं तो fail नही
ये class है कोई jail नही
pass नहीं तो fail नही
तो डरना क्या मेरे यार
बोलो बेटा
pass नहीं तो fail नही
ये class है कोई jail नही
pass नहीं तो fail नही
तू tension मत ले यार
pass नहीं तो fail नही (Just Tune X 3)
तो डरना क्या मेरे यार
इतनी तो कोई मुश्किल भी नहीं
जीतने हुए हो परेशान
shutter गिराके बंद कर डालो
डर की जो खोली दूकान
सर पे उठाया क्यों weight किताबों का
रख दो ना निचे ये भार
इतनी तो हलकी है body तुम्हारी
हो जाओ उड़के फरार
बोलो बेटा एक दोन तीन चार
pass नहीं तो fail नही
ये class है कोई jail नही
pass नहीं तो fail नही
तो डरना क्या मेरे यार
pass नहीं तो fail नही (Just Tune X 3)
तो डरना क्या मेरे यार
बोलो बेटा
Credits: Zee Music Company
Pass Nahi to Fail Nahi Lyrics in English
Yahan Maths Kis Kis Ka Favorite Subject Hai
Maths Mein Rules Nahi Hai Sirf Jadoo Hai
So Taiyaar Ho Mere Best Friends Maths Se Dosti Karane Ke Liye
Yes
Do Murgee Teri
Do Murgee Meri
Char Tere Mame Ki
Sat Suron Mein Jo
Teen Tal Mile
Dhun Bane Gaane Ki
Duniya He Saari
Nambaron Se Bhari
Bakse Se Bahar Nihar
Ham Na Jara Bhi
Kide Kitabi
Tension Mat Le Yaar
Bolo Beta Ek Don Teen Char
Pass Nahi To Fail Nahi
Ye Class Hai Koi Jail Nahi
Pass Nahi To Fail Nahi
To Darana Kya Mere Yaar
Bolo Beta
Pass Nahi To Fail Nahi
Ye Class Hai Koi Jail Nahi
Pass Nahi To Fail Nahi
Tu Tension Mat Le Yaar
Pass नहीं तो Fail नही (Just Tune X 3)
To Darana Kya Mere Yaar
Itani To Koi Mushkil Bhi Nahi
Jeetane Hue Ho Pareshan
Shutter Giraake Band Kar Dalo
Dar Ki Jo Kholi Dukaan
Sar Pe Uthaaya Kyon Weight Kitabon Ka
Rakh Do Na Niche Ye Bhaar
Itani To Halaki Hai Body Tumhari
Ho Jao Udake Faraar
Bolo Beta Ek Don Teen Char
Pass Nahi To Fail Nahi
Ye Class Hai Koi Jail Nahi
Pass Nahi To Fail Nahi
To Darana Kya Mere Yaar
Pass Nahi To Fail Nahi (Just Tunai X 3)
To Darana Kya Mere Yaar
Bolo Beta
Other Songs From Shakuntala Devi Movie
Tags: Bollywood lyrics, latest Bollywood songs, Hindi songs, Hindi Bollywood songs, new Hindi songs