Hindi Sad Song on True Love
'Raazi Lyrics' is a New Sensitive Hindi Sad Song sung by Sid. The lyrics & composition of this song is by NABS Music and music is given by SOS/Alok. Raazi Lyrical video is edited by Shoaib Khan.
Raazi is all about a Journey envisaging a Lover's hope to sail through imperfectly perfect times. This song has heart-touching words with soothing music that give a feeling of true love.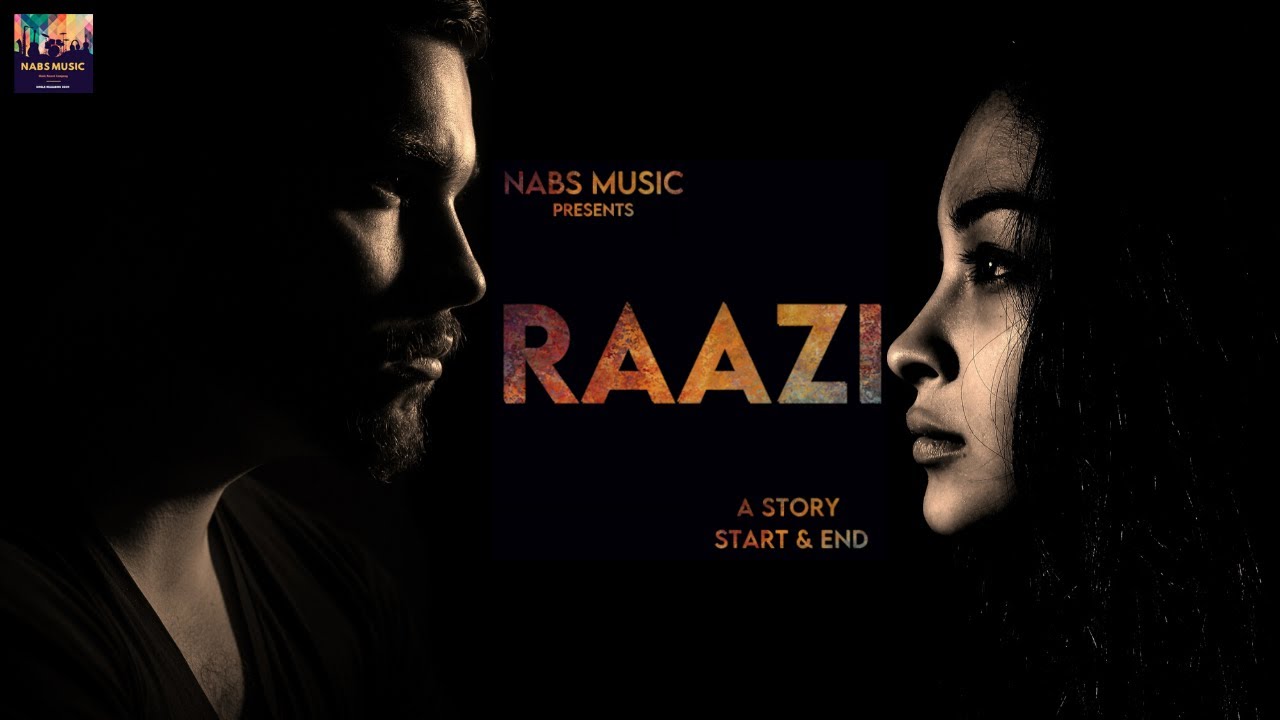 Credits: NABS Music
Below are the Lyrics in Hindi and English
Song Details:
| | |
| --- | --- |
| ♫ Song | : Raazi राज़ी |
| Singer | : Sid |
| Music | : SOS/Alok |
| Lyrics & Composition | : NABS Music |
| Video Editor | : Shoaib Khan |
| Music Label | : NABS Music |
Raazi Lyrics in Hindi
दिल की वजह से ही राज़ी हुआ था
हौले हौले ही तोह
आदी हुआ था

दिल की वजह से ही राज़ी हुआ था
हौले हौले ही तोह
आदी हुआ था

पास आये तोह
पागल हुआ था
धीरे धीरे ही तोह
साहिल हुआ था

अश्कों में तेरी
यादें लेके
राते कैसे काटी थी

तू ना जाने
कैसी मेरी
बीती ज़िन्दगानी थी

दिल की वजह से ही राज़ी हुआ था
हौले हौले ही तोह
आदी हुआ था

लबों पे लेके
तेरी यादें
दिल करता है
वो फरियादें

खुदा मिला दे
मुझको वापस यार से

जहा चले वहां तेरे रास्ते
रोजे मेरे और नमाजे
अदा करे सब
तेरे वास्ते

दिल की वजह से ही हाफिज हुआ था
तेरी बातों का
फ़ाज़िल हुआ था

पास आये तोह
पागल हुआ था
धीरे धीरे ही तोह
साहिल हुआ था

आहट भी तेरी
याद है मुझको
पेहचान मैं लेता हूँ

सिलवटे ज़खमो की तेरी
आज भी में
रखता हूँ

दिल की वजह से ही हाफिज हुआ था
तेरी बातों का
फ़ाज़िल हुआ था

पास आये तोह
पागल हुआ था
धीरे धीरे ही तोह
साहिल हुआ था

आया तू जैसे
नूर खुदा का
बारिश मैं जैसे
धुप जरा सा
काफिर बन गया
तेरा यार तोह

आहट वो तेरी
इशारा ​​खुदा का
बातें हो जैसे
राग ज़रा सा
आ भी जा
अब पास तोह

Written By: NABS Music
Credits: NABS Music
Raazi Lyrics in English
Dil Ki Wajah Se He Raazi Hua Tha
Haule Haule He Toh
Aadi Hua Tha
Dil Ki Wajah Se He Raazi Hua Tha
Haule Haule He Toh
Aadi Hua Tha
Paas Aaye Toh
Pagal Hua Tha
Dheere Dheere He Toh
Saahil Hua Tha
Ashqon Mein Teri
Yaadein Leke
Raate Kaise Kaati Thi
Tu Na Jaane
Kaisi Meri
Beeti ZindaGani Thi
Dil Ki Wajah Se He Raazi Hua Tha
Haule Haule
He Toh
Aadi Hua Tha
Labon Pe Leke
Teri Yaadein
Dil Karta Hai
Wo Fariyaadein
Khuda Mila De
Mujhko Wapas Yaar Se
Jaha Chale Waha Tere Raste
Roze Mere Aur Namaaze
Ada Kare Sab
Tere Vaaste
Dil Ki Wajah Se He Hafiz Hua Tha
Teri Baaton Ka
Faazil Hua Tha
Paas Aaye Toh
Pagal Hua Tha
Dheere Dheere He Toh
Saahil Hua Tha
Aahat Bhi Teri
Yaad Hai Mujhko
Pehchaan Main Leta Hu
Silvate Zakhmo Ke Teri
Aaj Bhi Main
Rakhta Hu
Dil Ki Wajah Se He Hafiz Hua Tha
Teri Baaton Ka
Faazil Hua Tha
Paas Aaye Toh
Pagal Hua Tha
Dheere Dheere He Toh
Saahil Hua Tha
Aaya Tu Jaise
Noor Khuda Ka
Baarish Mein Jaise
Dhoop Zara Sa
Kaafir Bann Gaya
Tera Yaar Toh
Aahat Wo Teri
Ishara Khuda Ka
Baatein Ho Jaise
Raag Zara Sa
Aa Bhi Jaa
Ab Paas Toh
Tags:
New 
Hindi Songs, Love Songs, Sad romantic song